Manifest Your Role.
Shine With Purpose.
The Can't-Get-It-Wrong Guide to Manifesting a Career that Resonates.
LET'S GO!
What Successful Actors Know That You Don't... Yet!
Ngozi (Actor + Producer)
"Manifesting 101 gave me more than I expected. I went on a magical ride filled with practical steps (that anyone can take) to manifest with greater ease and trust. I just love Lisa's creative approach."
Maya (Actor + Stunt Performer)
"It's something I can ALWAYS go back to as a tool for mental refocus."
Jim (Teacher)
"Even if you're not an actor like me, don't let that hold you back from diving into Lisa's manifesting goodness. When my friend recommended Manifesting 101, I had no idea how much it would positively impact my life."
In a world filled with closed doors and guarded secrets, my goal is to open the gates.
Let's work together to uncover what makes an actor truly successful. Let's delve into that something, the intangible quality that could transform your career.
Oh, and if at any point while reading this page you think to yourself, I "know all this already", Challenge that thought with a question. I may not be your coach yet, but I still want to help. Ask yourself. "What can I learn from this?"
Stay open to growth instead of being fixed and closed off.
Even if we never work together, I want you to leave this page with something valuable.
This isn't just another sales page. It's a road map to move your energy in the right direction.
But to see that, you've got to be open to it. Remember, understanding something intellectually isn't the same as experiencing it in your being.
If doubt creeps in, replace it with, "HOW can this work for me?"
I mean it.  Whether we work together or not, I want you to leave this page with something useful.  Time is precious, and I'm not about wasting it.
Stay curious. Stay open. That's how new ideas and insights stick and become the comfort in moments of doubt.  
If you've been skimming, STOP. 
Go back to the top, like restarting a level of Super Mario Brothers, and collect those coins of wisdom.
Your whole-hearted engagement here will train you to be thorough and focused--essential for a successful acting career. 
The reason I've been blessed with booking so much work and working with some of my artistic heroes is because of how I show up —that's the feedback I would get —Producers, Showrunners, Directors, Crew, my fellow artists would all say, my energy is different. I'm confident. I'm clear. I'm grounded. 
Anyone who knows me will tell you-- it's NOT an act.
I've developed a powerful system that's rewarded me with a passionate acting career that I love. 
It's no coincidence you've found your way here.
I've been in the industry for a while, I can say most actors (especially new ones) come across as frazzled and nervous —and even if they're projecting confidence—there's an energy that just isn't landing them the gig. So start embracing and living in those qualities of being thorough and focused now. Embrace being thorough and focused. Ready? Let's dive into who you want to be.
Ok, already... Sign me up for $19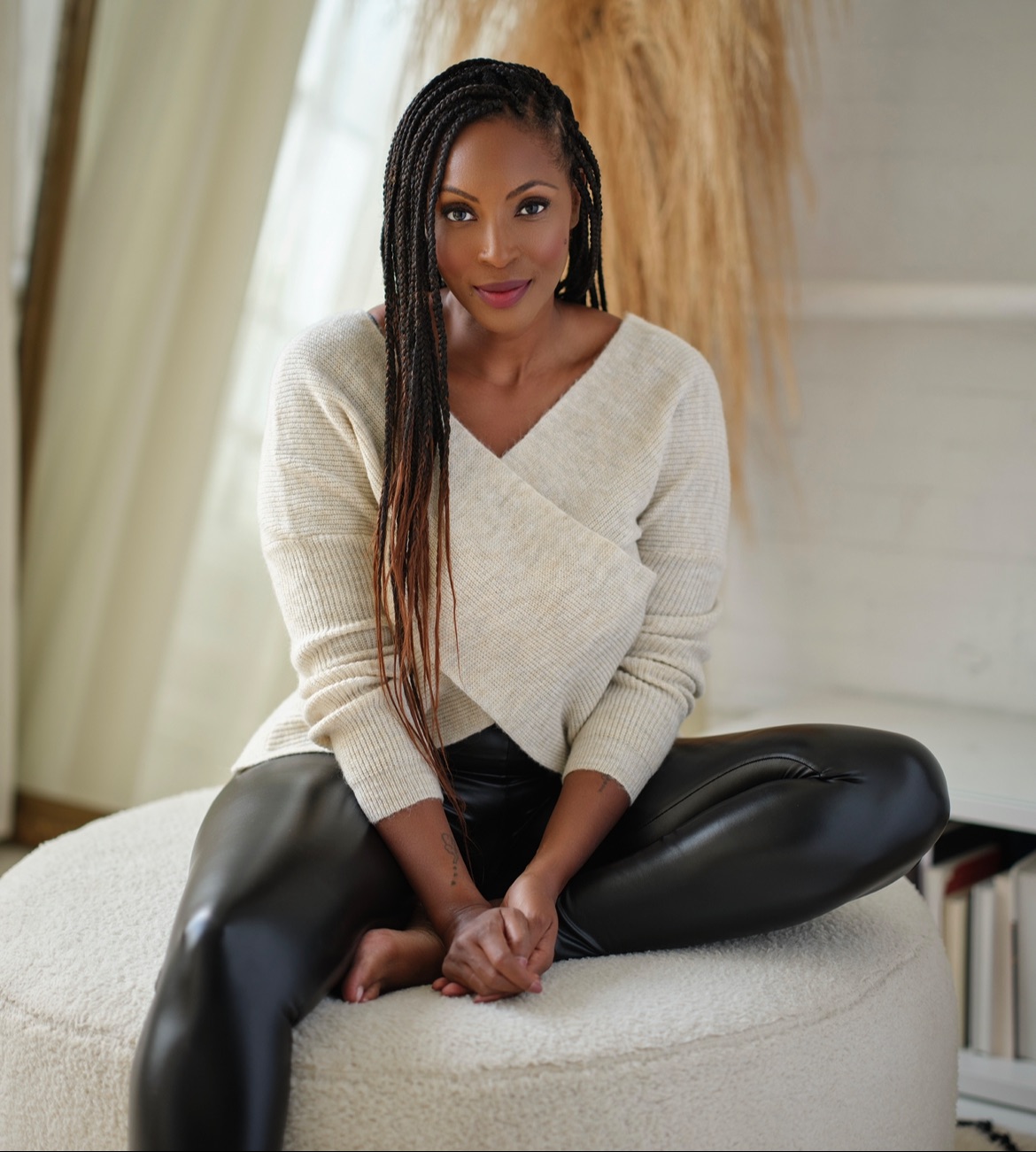 Let me introduce myself properly. Hi, I'm Lisa Berry.
And as a CSA Nominated, stage-conquering, screen-sizzling leading lady, I've seen the highs and lows of this industry.
I've graced stages across North America and starred in shows that had people hooked worldwide. But here's the thing: those accomplishments don't define me. What truly matters is that I've found happiness, and that's what I want for you too.
Believe me, I know what it's like to face the curveballs that life throws at you. Rejection after rejection can really take a toll on your emotional well-being.
I've danced with depression, wrestled with low self-esteem, and battled anxiety. It's like a wild cocktail of emotions that can leave you feeling drained.
But hey, here's the silver lining. I've discovered how to create a world within myself that's healthy, thriving, and aligned with my desires.
And now, I want to share that wisdom with you. Whether you're an aspiring actor or a seasoned artist, I'm here to guide you on a transformative journey.
Together, we'll gain autonomy over ourselves even in moments of crisis and uncertainty.
I'll show you how to cultivate a mindset that empowers you to navigate the ups and downs of this industry with grace and resilience.
Because let's face it, the world around us may be unpredictable, but we have the power to create our own inner sanctuary.
So, my friend, get ready to step into your own spotlight.
Let's create a world within that radiates positivity, joy, and unwavering confidence. You deserve to thrive, no matter what the external circumstances may be.
Let's embark on this journey together and unlock your true potential as an artist. The stage is set, and the spotlight is waiting for you. Let's make magic happen!
Fear becomes paralysis and dreams turn to doubts.

Listen, you feel it, don't you?
That gnawing discouragement that your acting career isn't taking off. Your initial fire, passion, excitement, and vision are dimming, overshadowed by relentless rejection. Failed auditions, countless no's, witnessing others succeed while you're left questioning:
"Is this ever going to happen for me?"
"Should I keep fighting?"
"Is age defeating me?"
"Is it time for a 'real' job?"
Discouragement is the single greatest feeling killing your manifesting mojo.
If you keep letting discouragement rule your acting career (or non-existing career), you're doomed to fail — and I'm not saying that to be mean. But when auditions appear, and they will, that feeling will block you from booking them. I witness this constantly.
If you identify as an actor, then you naturally crave work and success. Don't let discouragement write your script!
Sarah (Actor)
"Wow! I'm manifesting what I actually want! By incorporating Lisa's techniques into my daily routine, I noticed a significant shift. I became more present, patient, and connected with what I truly wanted."
Mark (Writer)
"What struck me most about Lisa's teachings is how relatable and accessible they are for artists. She effortlessly weaves together spirituality and real-world wisdom, providing a roadmap for bringing harmony, abundance, and joy into your life. I wholeheartedly recommend diving into Lisa's teachings. Trust me, it's a small investment that gives you big results."
Marcia (Singer)
"Lisa's unique approach to manifestation brought a wave of positive energy into my career and life. Manifesting 101 is simple but powerful and a true game changer."
In Manifesting 101: Actors Edition, the mysteries of manifesting are specifically tailored for creative souls like yourself.
So buckle up and get ready because we've got three main sections that'll teach you the secrets that'll help you create a successful acting career.
Are you feeling the excitement?
Section One
We kick off this adventure by diving headfirst into the world of intention setting, where the real magic happens. This is your golden ticket to creating a life you adore. We'll explore the power of setting clear intentions and how that's different than having goals. Then watch as the universe aligns with your heart's desires.
Section Two
Then we'll delve into the fascinating realm of vibrations. It's time to understand how your energetic frequency shapes the vision you hold for your creative career.
We'll explore the interplay between your thoughts, emotions, and the universe as you harness the power of positive vibrations. Get ready to amplify your creative energy!
Section Three
And finally, you'll be equipped with the tools you need to release any resistance that has been holding you back.
You'll learn how to transform courage into confidence, surrender to the guidance of the universe and embrace a state of ease.
Tap into your inner peace and welcome abundance effortlessly into your creative career. It's time to break free and soar!
Inside you'll learn how to:
✔ Amplify your soul's voice, so you can hear the whispers beneath the industry's roar.
✔ Channel your frustration into determination, igniting your inner fire.
✔ Breakthrough blocks and expand your artistic horizon by conquering self-doubt.
✔ Fine-tune your process to resonate with abundance instead of fear.
✔ Reignite your mojo and bring your manifesting power back to life.
You're gonna love the bonuses.
Get ready for an abundance of manifestation magic!
BONUS #1
Trinity Of Truth: A game-changing three-part mini course that unveils the secret sauce to gently unravel the threads of resistance and fear that have hindered your progress. Get ready to manifest the acting career you love. (Value $99)
BONUS #2
Love You: Fall In Love With Taking Care of Yourself is a juicy, 62-page ebook packed with all the goodness you need to lavish care upon yourself and nourish every aspect of your being. Within these pages, you'll discover practices, rituals, and wisdom that will help you replenish your energy. (Value $37)
BONUS #3
The 45-minute audiobook for Love You: Fall In Love With Taking Care of Yourself invites your senses to embark on a transformative journey of self-nurturing. You'll find everything you need to care for your mind, body, and soul. (Value $27)
BONUS #4
The Love You Workbook is your one-stop shop for self-care goodness, offering tools, exercises, and practices that will rejuvenate and energize you. (Value $27)
Get ready to embrace self-love like never before and watch your creativity soar!
FAQ.
Do I need to be an actor to benefit from Manifesting 101: Actor's Edition?
Absolutely not! The principles and techniques of manifestation can be applied to any area of your life. Whether you're a seasoned actor, an aspiring performer, or just someone looking to manifest success in their field, this program is for you. Let's unleash your inner star!
When do I get access to the material?
Right away! Once you enroll in Manifesting 101: Actor's Edition, you'll gain instant access to all the juicy content. No more waiting around like a restless actor in the green room. You'll have the freedom to dive into the transformative audios, worksheets, and bonuses at your own pace, whenever and wherever you want.
What if I struggle with self-doubt and limiting beliefs?
We've got your back! Self-doubt and limiting beliefs are common roadblocks for actors but fear not because we have powerful strategies to help you overcome them.
Is there ongoing support available during the program?
Absolutely! We believe in providing stellar support to our star-studded community. Simply reach out to our support team at [email protected]
Can I access the program on any device?
Of course! We've made sure that Manifesting 101: Actor's Edition is compatible with all your favourite devices.
Do you offer refunds?
Due to the digital nature of the course, all sales are final. However, we want you to feel 100% confident in your decision to join Manifesting 101: Actor's Edition. If you have any questions or concerns, please don't hesitate to reach out to our dedicated support team at [email protected]. We're here to assist you every step of the way on your manifestation journey.